The 7th Annual Oklahoma City Burlesque Festival
June 14-15, 2019
Tickets Available April 15th!

---
Oklahoma's largest burlesque event, featuring the best in burlesque & variety entertainment from around the world!

---
---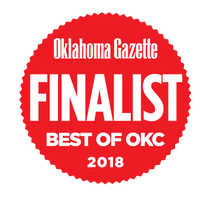 Adèle Wolf Productions
Best Performing Arts Company
Best Naughty Business

Oklahoma School of Burlesque
Best Place to Get Fit

---
---
2018 Headlining Performers

---
Raquel Reed
New Orleans Queen of Burlesque 2017
from Las Vegas, NV


Raquel Reed is an international burlesque performer and model recently relocated to Las Vegas after being cast in the world-renowned Vegas revue, Absinthe. In 2017, she was crowned the New Orleans Queen of Burlesque and recently ranked #11 in 21st Century Burlesque Magazine's Burlesque Top 50.

Known for her dangerous curves and opulent costumes, it's no wonder she's carved out a strong reputation as a leading burlesque performer. She has performed and headlined at numerous festivals and events, both in the U.S. and internationally. Raquel also has her own cosmetic line! Wink My Way© specializes in lashes that people are always looking for or creating themselves, but just can't seem to buy anywhere.

---
Sydni Deveraux
International Burlesque Star
from New York City, NY


Sydni Deveraux's charming performance style is an entertaining mix of charm, finesse and sophisticated musicality. Specializing in rock n roll, Sydni uses her beautiful alluring features, and her very leggy 6'2" frame to hypnotize her audiences all over the world as a headliner and emcee. As a Wasabassco producer and core performer, she curates and hosts House of Deveraux at Le Poisson Rouge monthly and can be seen three times a week at Wasabassco's floor show at Bathtub Gin.

In 2013, Sydni placed 1st Runner Up for Miss Exotic World at the Burlesque Hall of Fame Weekend. In 2017, she competed again at BHoF, this time taking 2nd Runner Up. Sydni is also ranked in the top 50 burlesque performers of 2011 THROUGH 2017 as polled by 21st Century Burlesque Magazine. Her talents have been featured in acclaimed shows that showcase the brightest and most recognized talents in the world, from New York City to Toronto, Vancouver, Finland, Paris, Amsterdam and Switzerland.

---